Disposable Medical Gowns
Brand: HuiCheng
Model: S -XL
Certification: CE /FDA/ EN13485/ EN14126/ANSI-AAMIPB70 Standard
Place of Origin: China
Color: blue/green
Grams: 45g 55g 65g, others customizable
Characteristic of Disposable Medical Gowns

• Pure cotton
Pure cotton is a natural fiber, which has the advantages of good air permeability, good hand feel and low price. It is mainly 60 x 60 / 20's x 20's and 108 x 58 / 20's x 20's. At present, more than 90% of all medical institutions in China are mainly cotton clothes. However, in the requirements for clothes in western countries, various protective properties and sensing control have been taken as the main normative focus to reduce the use of cotton clothes. Although cotton has good air permeability, it does not have barrier protection function. In case of large-scale surgery, massive bleeding or need to use a large amount of liquid to wash, the clothes will be soaked by the splashed liquid and penetrate into the inner hand clothes. Along with the possible carriers, including HBV (hepatitis B virus) Various pathogens such as HCV (hepatitis C virus) and HIV (HIV) cause health care workers to face greater risk of infection. With the improvement of the concept of sensing, control and protection, manufacturers and hospitals improve this problem from the aspects of materials and use. In the case of cotton clothing, the manufacturer may use post-treatment, add water splashing agent or multi-layer combination (with moisture permeable and waterproof fabric in the middle) to reduce the adsorbed liquid. In the hospital, the medical staff in the operating room may stick a waterproof adhesive film or water collecting layer to collect the liquid flowing out during the operation to avoid contact with the human body. In addition, if large-scale surgery is expected to produce a large amount of body fluid, if the medical staff choose to wear cotton disposable medical gowns, they should wear a waterproof robe in the clothes to prevent the infiltration of liquid adsorbed on the clothes.
• High density fabric
It is mainly 75D / 70F or 75D / 144f polyester fiber, with warp and weft density of 150-170 pieces / inch and 100-120 pieces / inch respectively. Conductive fiber or carbon fiber is added every (0.5-1) cm on the fabric surface to make the fabric have antistatic effect (similar to dust-free clothing fabric). The antistatic effect significantly improves the comfort of the garment. This kind of clothing has the advantages of hydrophobicity, barrier function, not easy to produce micro dust and cotton clothing de flocculation. Moreover, the number of washable times of reuse is 50-70 times higher than that of cotton clothes. The characteristics of light weight and non water absorption of this kind of disposable medical gowns reduce the washing cost, so the overall cost also decreases, which is also an important factor in the increase of the use of polyester fiber clothes.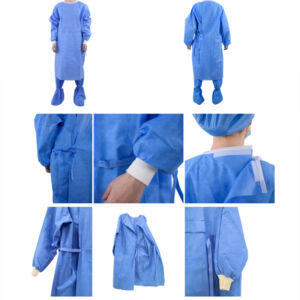 Features of Disposable Medical Gowns
Disposable Medical Gowns are medical clothing with American Standard for doctors during surgery. The product is refined from nonwovens as the main raw material. It has good air permeability, bacteria resistance and water resistance. The general style design is that there are two bags at the neck and waist. When wearing, wear them backwards. Fasten the belt and put on gloves. The main function of wearing disposable clothes is to isolate bacteria and eliminate infection, which can protect doctors from infection, so as not to cause secondary infection to patients.
The medical grade (sterilization+) of clothing is divided into 1-4 grades. The minimum gram number is 45g. The higher the grade, the stronger the protection. It is packaged and disinfected separately. The fabric used in clothing belongs to medical shielding fabric, mainly focusing on barrier performance.
Barrier properties include the ability to prevent the penetration of liquids and microorganisms. It has certain adsorption function and water pressure resistance. In addition, the clothes shall also meet other requirements such as comfort, flame retardancy, antistatic, and etc.
Disposable Medical Gowns are mainly divided into reusable clothes and disposable clothes according to their use. Disposable Medical Gowns are mainly SMS \ SMMs disposable medical gowns, SMS or SMMs non-woven gown, and the stiffeners are non-woven composite materials.
The disposable medical gowns is disposable medical clothing with american standard.
As a professional Disposable Medical Gowns manufacturer and supplier, we offers Disposable Medical Gowns with high American Standard to meet requirement in USA and other European countries. If you're Purchasing Department in hospitals, medical products distributors and retailers, welcome to contact us to get free quotation of disposable medical gowns at any time. We will give in-time reply ASAP.