Disposable Medical Protective Clothing
Disposable medical microporous protective clothing with adhesive strip.
Brand: HuiCheng
Model: S-3XL
Certification: EN14126:2003 AAMIPB70-2012
Country of Origin: China
Color option: White
Material: SMS, PP+PE, CPE and others
Characteristics of Disposable Medical Protective Clothing
• Peritoneal non-woven protective clothing: airtight, waterproof, good bacteria isolation effect, with obvious distinction between positive and negative sides. The side in contact with the body is non-woven clothing, which is not allergic and feels good. There is a layer of plastic film outside to prevent liquid leakage. It is used in occasions with pollution and virus. The hospital infectious disease room mainly uses film coated non-woven protective clothing.
• SMS non-woven protective clothing: three layers of composite non-woven fabric, with a waterproof and bacteria isolation layer in the middle and a PP non-woven fabric with sesame dot pattern in the outer layer, which is strong, tensile and has the function of bacteria isolation, waterproof and breathable. It is generally used in 100000 grade purified environment such as bacterial culture laboratory and sterile surgical operating room.
• Breathable membrane non-woven protective clothing: bacteria isolation, waterproof, slightly breathable, soft texture, is the most advanced medical protective clothing for medical protection. The inner layer is 40g high-grade filament non-woven fabric, and the outer abdomen is provided with a 20g unidirectional breathable PE film. Its characteristic is that the sweat of the human body can be emitted, while the harmful gas and water outside can not invade. Learn more
Comparison of Medical Protective Clothing Standards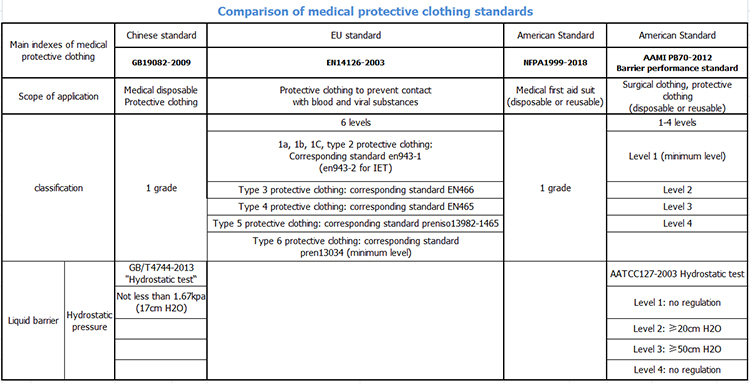 Buy Disposable Medical Protective Clothing in Bulk
Features of Disposable Medical Protective Clothing
• Fully integrated, front opening with adhesive strip for disposable medical microporous protective clothing.
• Strong and durable, resistant to tear and wear, comfortable, soft, light, breathable, anti pollution and anti-static.
• The disposable medical protective clothing can penetrate air and water vapor, but it can repel water-based liquids and aerosols.
• Made of 100% high density polyethylene, free of fillers, adhesives, and silicon.
• The surface is smooth, repels inorganic liquids, prevents chemical substances from splashing, and makes solid dust difficult to adhere.
• Special coating treatment of medical hazmat suit: 100% dustproof performance can effectively prevent harmful ultra-fine dust, high concentration inorganic acid, alkali and salt solution.
As a supplier of Medical Hazmat Suit wholesale,  Huicheng Jufu focus on custom disposable medical protective clothing and custom medical hazmat suit are also available at with required material, thickness and function. Contact us to customize